After squeezing every penny trying to save for a newly constructed home, homeowners may be hit with an added bill; lumber. In a recently released article from the NAHB, the National Association of Home Builders, lagging domestic supply and increasing tariffs on Canadian lumber mean that contractors are looking at prices increases this spring as high as 30% by April.
That's about when Randy Strauss, owner of Strauss Construction in Amherst, Ohio start breaking ground on a home that his client signed a contract for last week – a large custom home that includes a $60,000 lumber package. With an expected $18,000 cost increase, "there goes my profit," said Strauss.
Could that be passed onto the homeowner for the added costs? It certainly can be.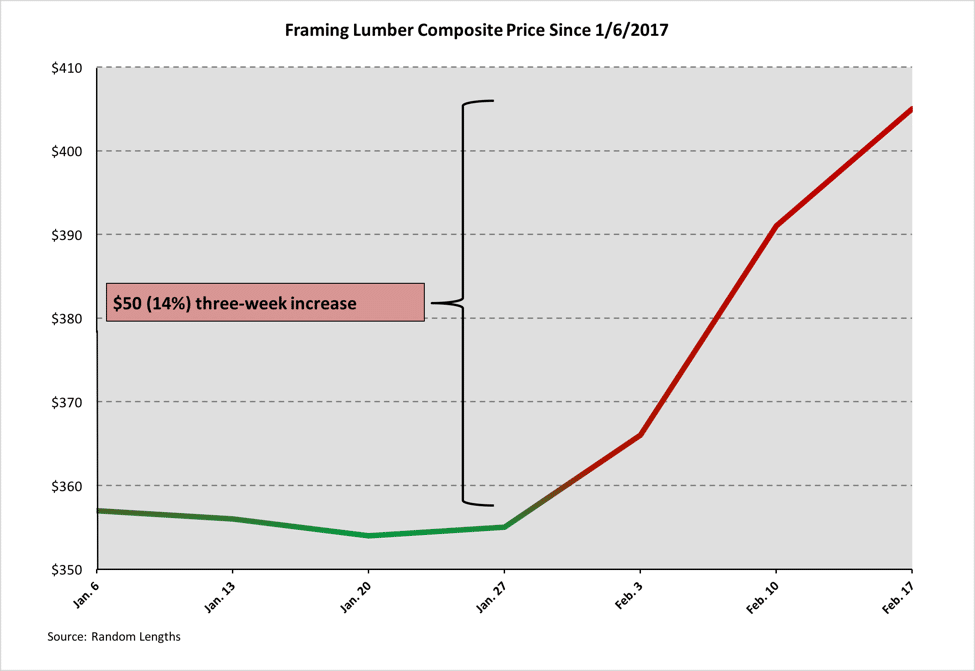 Negotiations on a new softwood lumber agreement between the United States and Canada ground to a halt at the end of 2016 and likely are stalled pending the results of an investigation into unfair import practices requested by the U.S. Lumber Coalition.
That leaves home builders – and their customers – caught in the middle and probably looking at price hikes: The Random Lengths Framing Lumber Composite price jumped from $366 on Feb. 3 to $391 on Feb. 10, the greatest weekly gain since August 2003. By Feb. 17, it was up to $405.
So what are your options if lumber prices continue to climb impacting the cost of those timber piles needed to support your foundation?
With steel at all time low prices, Helicon has the better solution
A Pre-Construction pier is a type of structural pier, which is installed below the structure before it is built. The pier is tied into the footer of the structure to keep the structure from moving due to weak or compromised soils. Normally this consists of a type of multi lead helical pier that is driven with precision deep into the ground until it rests soundly upon the underlying load-bearing strata.
The helical piers are embedded within the foundation via a custom footer bracket. When the building contractor places the concrete foundation, the bracket is essentially embedded into the footer by twisting the rebar into the top bracket thus making the Pre-Construction piers an essential part of the foundation once the concrete has cured.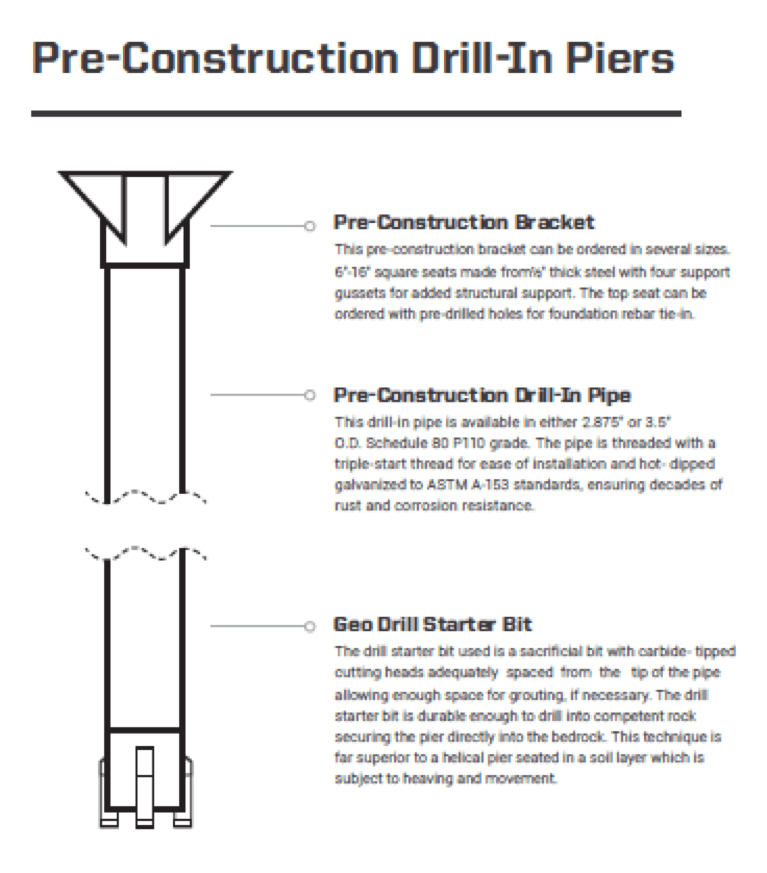 More and more architects, engineers, and construction professionals are paying closer attention to the potential of soil issues such as buried debris, clay, and muck and sinkhole damage. These professionals are taking precautionary measures to prevent the problem before damage begins. By installing a deep foundation system prior to building you can ensure the structure will rest on a solid base for years to come.
Pre-Construction piers are easy to install, only taking 2-3 days to drive and weld a whole house. They are also cost effective when compared to other retrofitted soil improvement systems and all Pre-Construction piers come with Helicon Lifetime Warranty on workmanship completely protecting you with the most comprehensive warranty in the industry and you could easily save thousands of dollars in sinkhole coverage premiums by using Helicon for your restoration project.
What is the installation method of Pre Construction Piers?
Your engineer's installation design is reviewed and installation points are marked off in cooperation with your building contractor.
The Helical Piers are hydraulically torque driven into the soils to the specified depths.
Excess pipe is cut at the bottom of the proposed footer and pipe is made ready for the top bracket.
The top bracket is welded to the top of the pier.
Process continues until all the Pre Construction Piers are installed.
Work site is cleaned up. 
How do pre-construction piers work?
Pre-construction helical piers are installed prior to pouring footings as specified by the engineer's installation design. (These are the same piers that have long been used to stabilize and often lift the foundations of existing homes that have settled.)
Rugged steel tube sections are hydraulically driven until they reach the depths of competent load-bearing soil strata or bedrock. The top of the pier is then cut to the footing elevation and a footing bracket or plate cap is welded to it. Rebar is added and the footing is poured, making the pier and bracket assembly integral to the foundation.
Your foundation rests upon these piers, not potentially unstable soils closer to the surface. This precaution ensures that your new home will not settle due to weak soil conditions or sinkhole activity.
 Advantages of our pre-construction helical piers
Can be installed year-round
Round shaft has a high resistance to bending
Galvanized steel resists corrosion for long life
Cannot be seen after installation
Can be installed in tight spaces
Minimizes the seismic activity and ultimate noise of pounding into the rock layer
Load is transferred through problematic soils to bedrock.
The drilling process ensures the pier is seated in the rock.
Calculation of the load is simple. No need to use a complicated load-bearing calculation that may or may not be accurate. 100% of the load is seated in bedrock.
The piles are easy to handle and are available in multiple lengths.
Can be drilled through dense layers. The lateral displacement of the soil during driving is low.
Can be driven in hard soil conditions and to greater depth.
Higher load capacity
Faster and easier installation, and lower overall cost.
Can be encased in concrete, if required.
Greater design flexibility for the engineer. Many design options available
Lifetime warranty
Limitations against its current competitor – Timber Piles
Salt-water corrosion limits life of piles.
Pile Cap installation costs are greatly increased due to deep excavation requirements where sub-soil water level is very low.
Low joint strength limits the depth of the timber piles.
Lower load-bearing capacity.
Timber piles must be cut off below the permanent ground water level to prevent decay. If the water table at a site is at a greater depth, extra cost of excavation needed to provide the pile cap may render the choice uneconomical.
Increased safety concerns during installation in filled-in ground.
Time to bring in professional assistance
Helicon is the premier geotech construction company in Florida. Based out of Tampa, FL. we are a licensed general contractor leading the industry in full-service geotech work We are experts in pre-construction, sinkhole repair, and reconstruction & general contracting and ready to serve our customer with 24 hours a day, 7 days a week readiness. As the premier provider of geote throughout Florida for over a decade, Helicon prides itself on providing high quality service, for homeowners. Helicon has successfully completed thousands of restoration and remediation projects in the Tampa Bay metropolitan area, including the surrounding counties of Hillsborough, Pinellas, Hernando, Polk, Citrus and Marion counties. Our professional Helicon Teams are trained and equipped with the tools and expertise needed to execute a flawless and professional experience. We invest in our teams ensuring they remain up to date on the latest industry technology and training. Our Office Teams will answer all your questions, provide professional service, give knowledgeable advice, and execute a project that will fully satisfy our customers.